A.O.M Administrative
From SNIPER Systems
General Setting
This is the general setting in the system
Details Form
Company Name: Your company name.
Logo: Your company logo.
Header Settings: What do you want to show in header logo or company name
Address: Your company's address.
Phone: Your company's phone.
Email: Your company's email .
Default Date Format: Which date format you want to use in application.
Timezone: Which timezone you want to use in application.
Invoice No Start From: Initial number of invoices.
HR Settings Form
Employee Default Mark Out Time: Default time considered when an employee automatically marked out.
Employees Id Start From: Employee ID should be start from.
Working Days: Company working days
SMTP Settings Form
SMTP Host - The SMTP Host if using SMTP.
SMTP User - Your SMTP username.
SMTP Password - Your SMTP Password.
SMTP Port - Your SMTP Port number. Usually 25.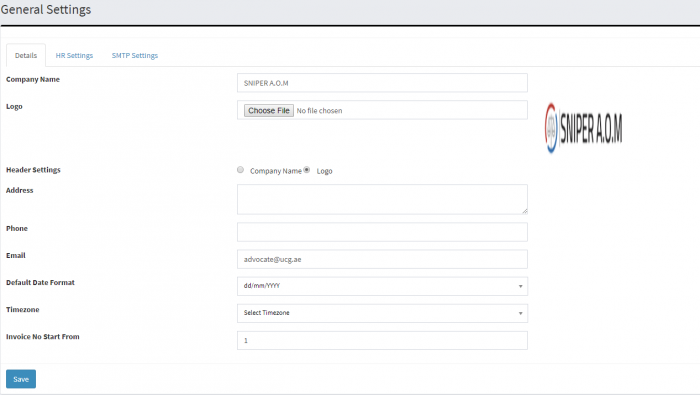 Notification Setting
Notification Settings is used to set prior number of days for different settings
Notification Settings Form
Case Alert Days - Prior number of days to get alert of Case.
To Do Alert Days - Prior number of days to get alert of ToDo.
Appointment Alert Days - Prior number of days to get alert of Appointment.

Language
Language Master is used to create new languages, update / delete existing languages and you can also download the language file. Language is used to convert the language of the system. To change the language there is dropdown in header. The default language is English and it can't be deleted.
Language Form
Language Name - Name of the Language.
Icon/ Flag - Icon/ Flag of the Language.
Language File - Import Language File for the language which you are creating.
Note: For Language file you can download sample English file, translate it and save that with different language.